# Websockets
Web IDL

Web IDL is an interface description language (IDL) format for describing application programming interfaces (APIs) that are intended to be implemented in web browsers.

XHR - Xml HTTP Request

is an API, whose objects are provided by the browser's JavaScript environment.
# How to get realtime updates from server?
Short Polling
Long Polling - poll and then wait for sometime, until server sends response
Websockets - full duplex communication
Send HTTP GET request via telnet
telnet www.google.com 80
GET /

HTTP/1.1 101 Switching Protocols
Upgrade: websocket
Connection: Upgrade
Sec-WebSocket-Accept: HSmrc0sMlYUkAGmm5OPpG2HaGWk=
Sec-WebSocket-Protocol: chat

# Websockets
HTTP is unidirectional, stateless
**ws**://www.google.com
**wss**://www.google.com

devtools inspect ws
Chrome -> devtools -> Netowrk tab -> WS
providing full-duplex communication channels over a single TCP connection
being standardize by W3C in Web IDL
works at Layer 7 in OSI model
2 parts

Handshake to establish connection
then actual data transfer
similar to network MAC Protocols, CSMA/CA

Nginx has supported WebSockets since 2013
Masks data from other connections
WARNING
WebSocket servers must validate the "Origin" header against the expected origins during connection establishment, to avoid Cross-Site WebSocket Hijacking attacks
Works in 3 stages
Opening Handshake
Data Exchange
Close Connection
# Where and when websockets can be used?
feeds are updated in realtime by websockets
Gaming Applications
Chat Applications
Realtime online crypto exchanges
Social feeds
Collaborative editing/coding
SPorts update
# Beginners Guide to Websockets
upgrade to HTTP
How fast are they over traditional HTTP
Transport Layer
Internet Layer
Application Layer

HTTP, Websocket, SSL, IMAP, POP

Meet AJAX
How to implement it?
cannot communicate with REST
SocketIO is to websocket what jQuery is to Javascript
Dion Misic
Polling
Long Polling, keep connection open until new data has arrived
Server Sent Events

Event source API
not truly bi-directional
need a event loop
works well with existing APIs
# Websockets vs AJAX
# HTTP 2
Decrease latency to improve page load speed in web browsers by considering:
data compression of HTTP headers
HTTP/2 Server Push
pipelining of requests
fixing the head-of-line blocking problem in HTTP 1.x
multiplexing multiple requests over a single TCP connection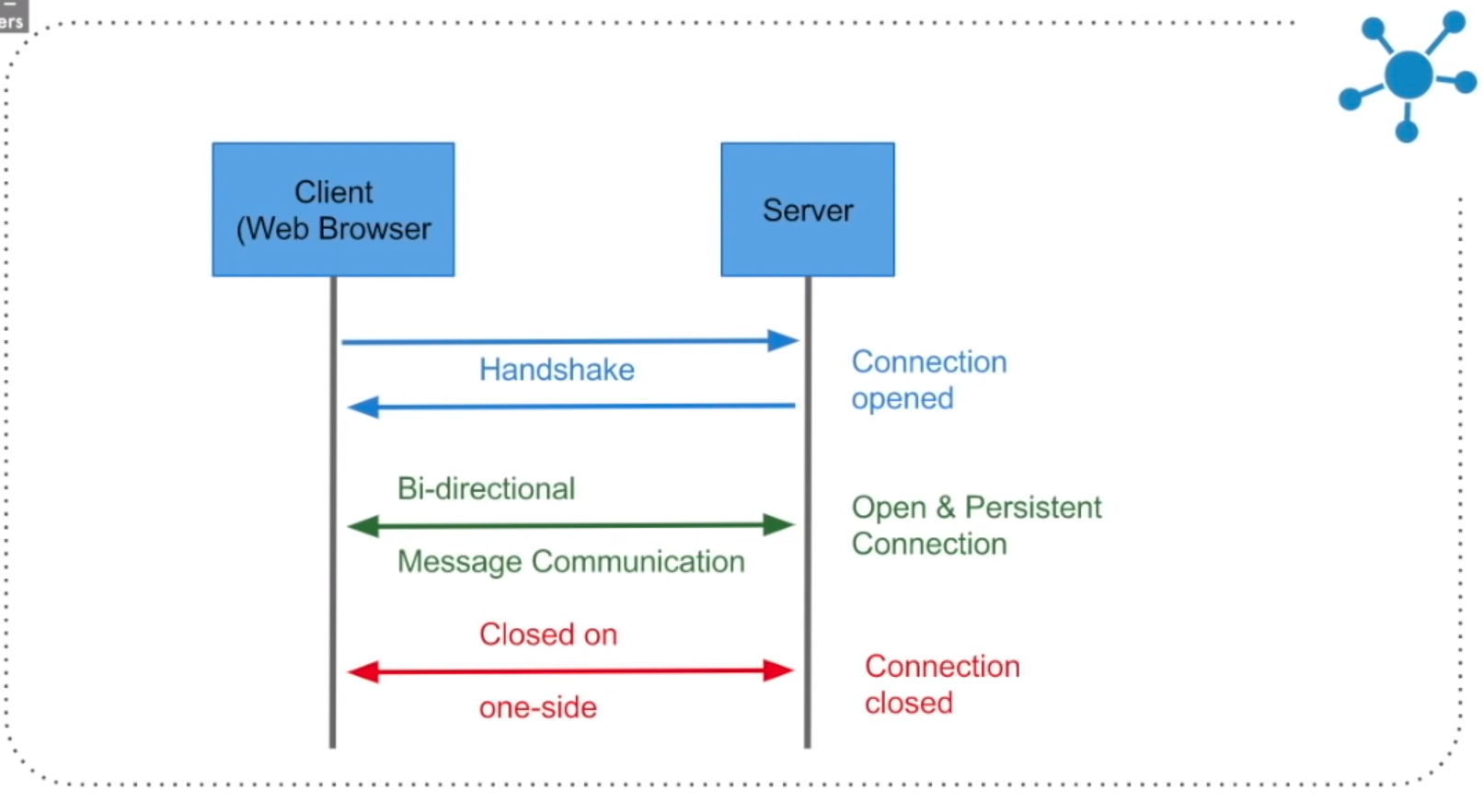 # How is it websocket different from HTTP?
# How does HTTP work?
connection is opened and closed by server
# Make realtime application that updates data from server?
Browserstack
pro.coinbase
financial exchanges
realtime news/social feeds
realtime chat
uber - watch cars moving
# How to implement and use WS?
# .NET Framework
we recommend SignalR over raw WebSockets

SignalR provides transport fallback for environments where WebSockets is not available

A variable which holds socket connection, initialized on document load

Sysnchronous vs Asynchronous principles

HTTP, XMLHTTPRequest and websockets concepts

Websocket API
# Socket Programming | Nettwork Programming
To build any networked application, we need socket Programming
Basics of TCP/IP Protocol connection
What and how do we program a connection?
Client Server Model
What are requests and response?
Which program generates them?
# Berkley's Socket API
What are [Socket]? to be specific Berkley Sockets
Are GPC different from sockets?

Yes, RPC are meant for OS whereas sockets are for communication b/w computers over the network
Good Questions
How does traditional HTTP protocol works?
How did AJAX changed it?
What do websockets offer? and at what cost?
# Resources